The 200-on-100 is a one day bicycle ride that stretches from the Canadian border to the Massachusetts state line. Route 100 is widely recognized as one of Vermont's most scenic highways and the ride is routed to minimize automobile traffic. With nicely spaced town greens for breaks, numerous scenic vistas, a number of long, steep climbs, and 50 mph descents, the 200-on-100 is a true New England classic, and a prime target for experienced cyclists.

While not a challenge to be tackled by the casual rider, the 200-on-100 should be within the capabilities of most well-trained cyclists. Bicycling Magazine included this ride in a 1989 article titled "Hell On Wheels: The 10 Toughest One-Day Rides in North America." Whether you've never tried a double-century before, or you're an experienced long-distance cyclist, this ride presents you with a challenge that you will always remember!
Breaking News:
Ted King rides the 200-on-100 on New Year's Day!
Click here to learn about Ted King & Tim Johnson's 200-on-100 rides.
Want to help promote the ride? Print out and post some posters!
Alternatives
North Troy, VT too far away for you? Consider creating your own, local 200-on-100. A few teams did this in 2011 and 2012 with great success. Running your own version of the event on a different date? Let us know and we'll post information about your ride here. If you're closer to New Jersey, you might be interested in the CJBC's Longest Day ride, a New Jersey diagonale, which typically runs around the same date.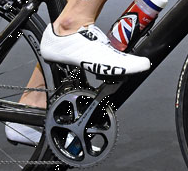 Stuck in the south? Check out the NoSox-NC ride in North Carolina, May 8th, organized by 200-on-100 alumnus Dan Hellerman. 157 mi, 6k+ ft of climbing, excellent companionship, blisters.